We are pleased to announce that this week's episode of the Pod of Inquiry will feature my conversation with renowned physician and researcher Dr. David Armstrong discussing his groundbreaking research on ulcer remission in diabetics. Dr. Armstrong is a professor at The Keck School of Medicine of the University of Southern California USC Medical School. He has been researching novel treatments for diabetic foot ulcers for over two decades and has published numerous articles on the subject in leading medical journals. His most recent work focuses on how to reduce rates of amputation among people with diabetes who develop foot ulcers, as well as strategies for improving wound healing outcomes overall. In this podcast episode, you'll hear from Dr. Armstrong about his work in this area and learn more about what it takes to achieve successful remission from diabetic foot ulcers through innovative treatment options.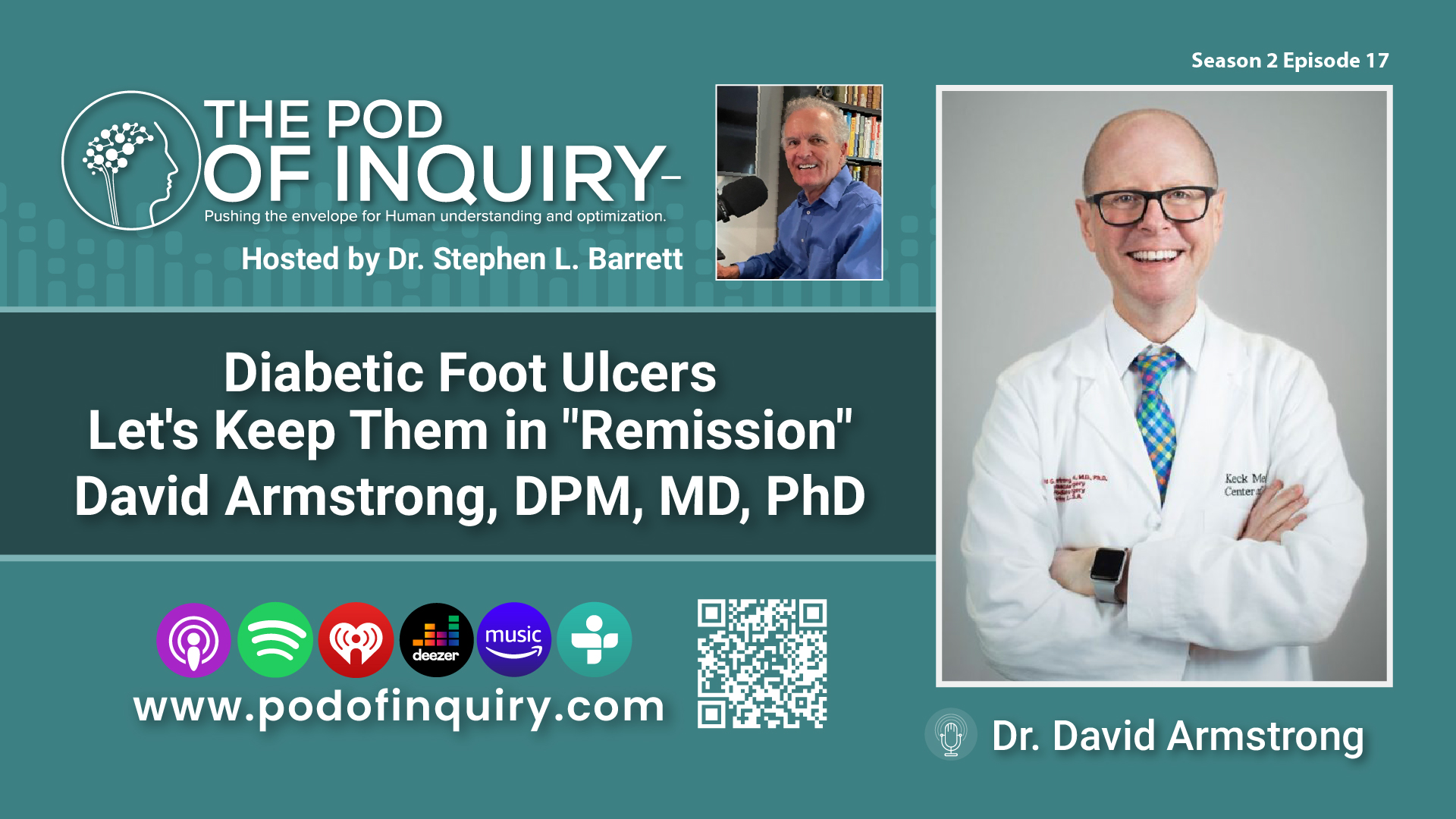 Dr. Armstrong was selected as one of the first six International Wound Care Ambassadors. He was honored with the inaugural Georgetown Distinguished Award for Diabetic Limb Salvage.[29][30] In 2010, he was the youngest ever recipient of the Roger Pecoraro Award and Lectureship from the American Diabetes Association, widely viewed as a lifetime achievement award in the field of the diabetic foot. That same year, he was also named the 2010 Honorary Fellow of the American College of Certified Wound Specialists as well as the inaugural recipient of the William S. Baer Award for Advances in Biosurgery/Biotherapy by the International Conference on Biotherapy. He was the first podiatric surgeon to become a member of the Society for Vascular Surgery and the first American podiatric surgeon to be named fellow of the Royal College of Physicians and Surgeons, Glasgow.[31] He frequently offers that these awards are more "recognitions of the importance of the problem" and of "the acknowledgement of the occupation in the care of people at risk." Armstrong is past Chair of Scientific Sessions for the ADA's Foot Care Council, and a past member of the National Board of Directors of the American Diabetes Association. He sits on the Infectious Diseases Society of America's Diabetic Foot Infection Advisory Committee. In 2011, he was appointed Chair of the World Diabetic Foot Commission of the FIP, representing clinicians from more than 30 nations. Dr. Armstrong has also been conferred the title of Visiting Professor at the University of Manchester College of Medicine, the University of Cardiff College of Medicine, the Raine Visiting Professor] at University of Western Australia,[32] University of Cincinnati during its 200th anniversary[33] and the Complutense University of Madrid.
Dr. Armstrong 05:14 Discusses "the gift of pain." Dreadful statistics
There's an amputation, give or take every 20 seconds around the world, maybe a little less than that, maybe every 17 to 20 seconds now. And once someone gets an amputation, it's not just a morbid and terrible thing for the family. But it's, it's, there's a lot of mortality involved here.
Dr. Barrett 08:25 Discusses DFU recurrence rate
Dr. Armstrong 12:57 Talks about the speed of recurrence
Dr. Armstrong 20:59 Discusses monitoring of patients
Dr. Barrett 28:58 The therapeutic window.
Dr. Armstrong 29:55 Temperature and pressure
Dr. Barrett  33:33 The slow water leak
Dr. Armstrong 34:46 Discusses consumer electronics in the fight against recurrence
Dr. Barrett  36:00 The concept of Pressure induced vasodilation
Dr. Armstrong 39:41 Toe and Flow
Dr. Barrett 42:37 Nerve decompression and DPN
Stephen Barrett  44:40
But, so we're going to monitor their pressure, number of steps, their activity, we're going to titrate that up over a period of time. What else am I going to do for this patient that we've sent to you got successfully healed at the limb preservation experts and now What can I do to make sure that this patient doesn't end up back under your service for as long as possible? Or maybe never.
Dr. Armstrong 45:07 Folks don't care how much you know, until they know how much you care
Dr. Barrett 47:23 Feedback from Monitoring
Dr. Armstrong 48:29 Further discussion about patient monitoring