Are you curious about the latest findings in regenerative medicine and how it's changing the way we approach so many different conditions? On this week's episode of the Pod of Inquiry, we're joined by renowned physician, Dr. Bruce Werber the CEO of BioXtek to discuss the groundbreaking research in this field. Tune in as he shares insights on what regenerative medicine is, why it matters, and how new advancements are helping us tackle medical challenges like never before! Don't miss out – listen now!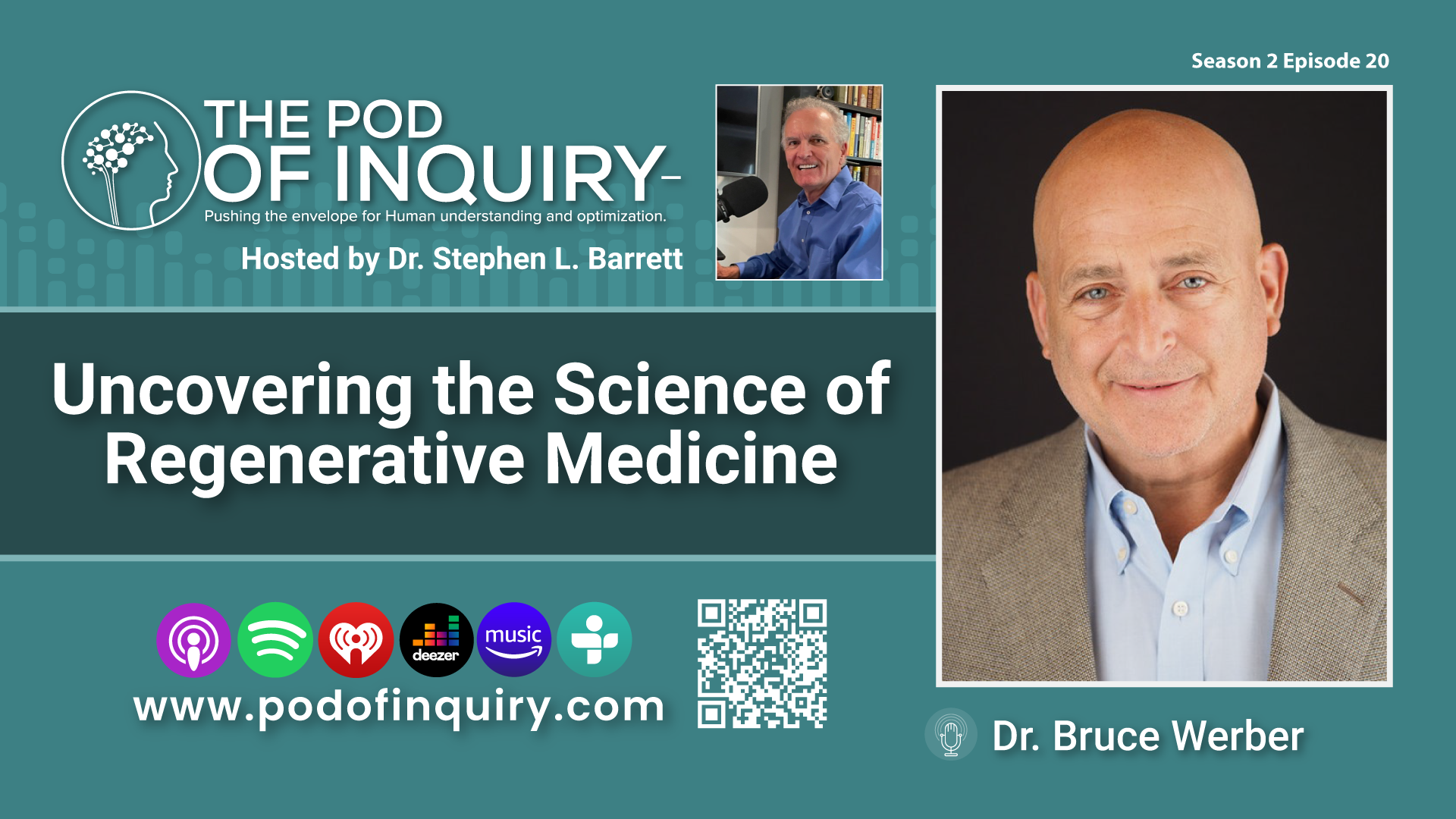 Dr. Werber is currently the CEO of BioXtek a biotechnology company specializing in regenerative therapeutics based on human birth tissues in Pompano Beach Florida. Past experiences in addition to practicing lower extremity surgery in the US, Honduras and India. Developing protocols utilizing PRP in the mid 80's. ESWT in the mid 90's and continues to lecture on these topics nationally and internationally.
He has been CEO of Anu Life Sciences tissue bank 2016-2018. Lead consultant for medical and surgical industries for Cuboid Associates.
From 1981 to 2015, Dr. Werber practiced as a Board-Certified reconstructive foot and ankle surgeon in Rhode Island and then in Arizona.
In 2012, Dr. Werber founded and, from 2012 to 2015, served as the President of Amnio Technology LLC, creating the company as well as developing the processing and clinical science related to utilizing placental tissue in orthopedic medicine. Prior to founding Amnio Technology, Dr. Werber was an assistant professor at Midwestern University College of Health Sciences, during this time he wrote and published two peer reviewed papers relating to using placental tissue in the treatment of diabetic wounds, plantar fasciosis and Achilles tendinosis.
Dr. Werber has spoken and lectured on this regenerative therapeutics extensively around the United States and internationally. Dr. Werber has completed surgical fellowships in 2003 Athens Institute for Orthopedics in Athens Greece, 2002/04 at the Ilizarov Institute in Kurgan Russia, and in 1989 Hadassah Hospital Jerusalem Israel. Developing expertise in limb preservation techniques most notably reconstruction of the Charcot Foot utilizing multiple techniques including ilizarov external fixation.
Dr. Werber has eight patents in the area of placental tissue. 2 patents in orthopedic implants, has written and spoken on extracorporeal therapy nationally and internationally.  Dr. Werber served as the Present of the American College of Foot and Ankle surgeons from 2003 to 2004. He has been a leader in the field of foot and ankle surgery, introducing new successful technologies to improve patient outcomes. His extensive business experience includes the development of the northeast franchisee of Discovery Zone, in addition to founding and managing successful medical practices in Rhode Island and Arizona.  Dr. Werber earned his DPM (Doctor of Podiatric Medicine) in 1980 from the California College of Podiatric Medicine in San Francisco, CA, Masters of Science from University Sacre Cour Rome Italy 2022, Biomedical engineering Masters at Brooklyn PolyTech and a B.S. in Biology-Physics in 1976 from Syracuse University in Syracuse, NY.
Dr. Werber 02:23 His journey to regeneration
Dr. Barrett  08:56 Getting the nomenclature right
Dr. Werber 09:55 The physiology of regeneration
Dr. Barrett  16:00 Understanding Exosomes
Dr. Werber 16:53 Are they getting the "symphony"?
Dr. Barrett  18:11 Chemotaxis and inflammation
Dr. Werber 18:25 Capturing exosomes to make very early diagnosis of different diseases
Dr. Barrett  21:25 How do Exosomes differentiate to make sure they're getting where they need to go
Dr. Barrett  22:21 When you manufacture these exosomes, are you amplifying them?
Dr. Werber 22:28 The process of processing
Dr. Werber 26:34233 Different micro RNAs
Dr. Werber 29:34 The use of ESWT to create signaling
Dr. Barrett  30:22 Discusses his past use of PRP
Dr. Werber 31:03 What can affect signaling molecules
Dr. Barrett  33:13 Discussion of routes of admission
Stephen Barrett  34:30
Dr. Werber 34:41 Where do you infiltrate?
Dr. Barrett  38:39 Problems with intra-articular injections
Dr. Werber 39:30 Microfracture
Dr.Barrett  42:11 The resurgence of PRP
Dr. Werber 42:32 Regenerative technology becoming mainsteam
Dr. Barrett  43:58 What about IV administration?
Dr. Werber 44:10 Where are they going—and how?
Dr. Barrett  47:21 FDA regulation
Dr. Werber 47:55 Minimal manipulation
Dr. Werber 50:08 The genesis of BioXtek
Dr. Barrett  50:55 David versus Goliath