On this week's episode of the Pod of Inquiry we discuss Precision Genomics and Tailored Treatment for Alzheimer's Disease. We are joined by Dr. Sandeep Kapoor, a gerontologist specializing in dementia care via precision medicine. We discuss the latest research on how genomics can be used to develop personalized treatments for Alzheimer's disease and other dementias. Dr. Kapoor will share some of his insights into this exciting field of medicine and discuss the potential applications of precision genomics in clinical practice today. Join us as we explore the possibilities that genomic technologies offer for improving patient outcomes with Alzheimer's disease!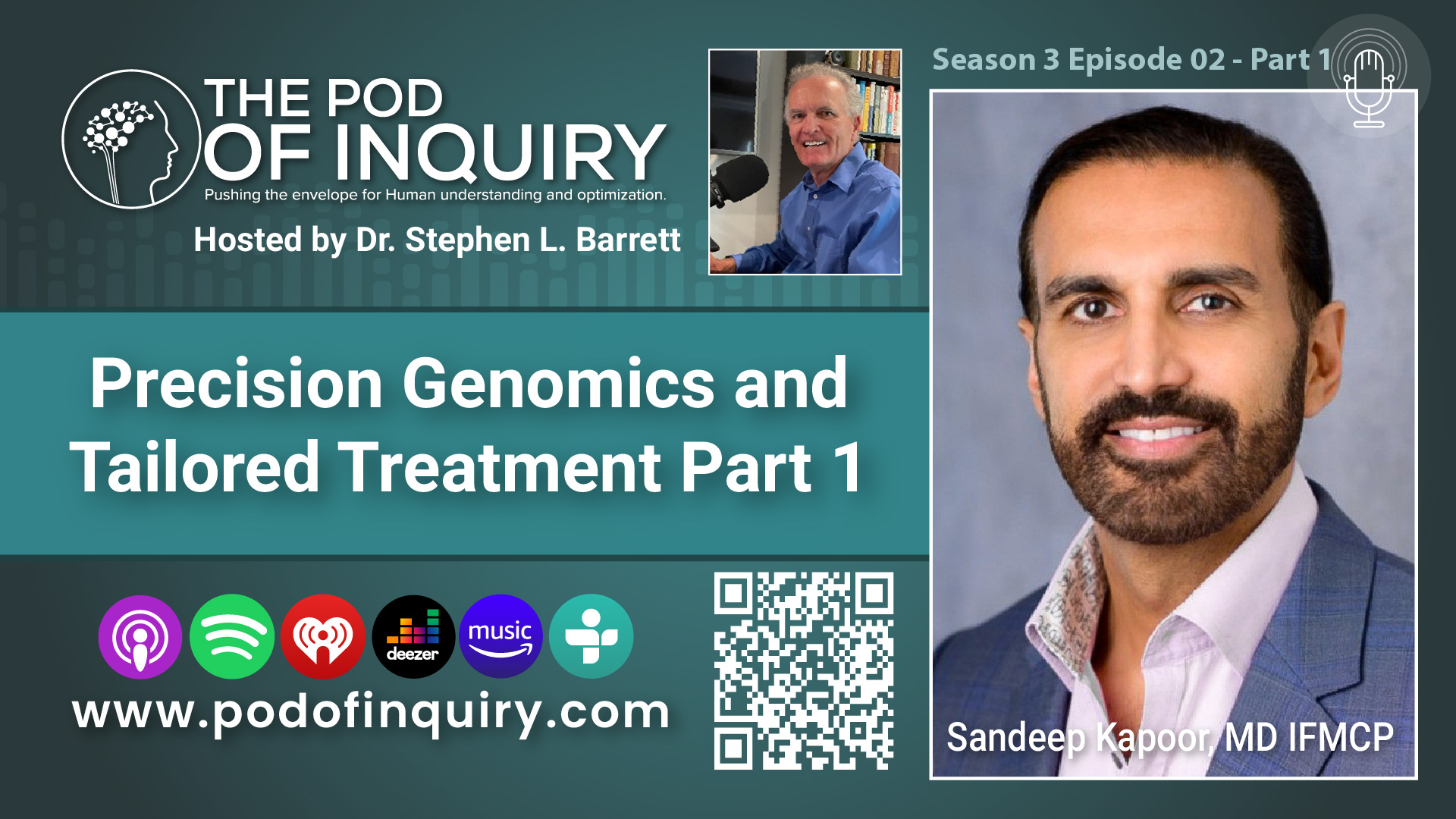 Watch The Podcast for Podiatrists
Listen to The Podcast for Podiatrists
Show Notes from this episode
Dr. Kapoor is a specialist in Internal and Geriatric Medicine, Dr. Kapoor is deeply committed to the conditions associated with aging and longevity. He is also keenly interested in the prevention and treatment of Alzheimer's Disease and Dementia and is sought after for an innovative vision to provide better treatment options for cognitive decline. Utilizing a precision medicine approach, he investigates the root cause of chronic illness enhancing the framework for treatment.  Dr. Kapoor is an expert and published author in the field of Genomics and utilizes it to deepen his understanding of what makes a patient unique leading to better outcomes.
Dr. Barrett 02:16 Introduction of Dr. Kapoor
Dr. Kapoor 03:32 Shares his story of his journey into neurocognitive disease treatment
Dr. Barrett and Dr. Kapoor 06:48 The Journey from allopathic to functional integrative medicine
Dr. Barrett 08:21 The failure of Alzheimer's drugs
Dr. Kapoor 09:59 The Old Hypothesis of Alzheimer's
Dr. Barrett 11:21 Is it really Amyloid Beta?
Dr. Kapoor 12:28 Discusses Dale Bredesen's work
Dr. Barrett 14:09 What about genomics testing?
Dr. Kapoor 14:49 His path to genomics
Dr. Kapoor 19:18 MTHFR gene and Apo E
Dr. Barrett 22:36 Nitric Oxide's role in the treatment of neurocognitive disease
Dr. Kapoor 27:09 Mitochondria
Dr. Barrett 28:17 The relationship of insulin to beta amyloid
Dr. Kapoor 28:53 Sugar and Coca Cola
Dr. Barrett 30:27 Impaired mitochondrial function and Apo E 4
Dr. Kapoor 30:55 Failure to assimilate cellular fuel
Dr. Barrett 31:05 Are we barking up the wrong tree?
Dr. Kapoor 31:37 Delineates metabolism and genomics
Dr. Barrett 35:23 The Sugar Addiction
Dr. Kapoor 36:35 Discusses the MOCA test
Dr. Kapoor 40:50 Treatment goals and Pathway to Independence
Dr. Barrett 43:10 This disease change be reversed
Dr. Kapoor 44:26 Discusses his practice
Dr. Barrett 46:03 With Alzheimer's Disease you Die Twice
Dr. Kapoor 47:05 Talks about his success in treatment of neurocognitive disease
Dr. Kapoor's practice is based in Los Angeles and he works in-person and remotely.
Contact information: Info@kapoormed.com 818-392-5408