We are excited to announce our newest episode of the podcast Pod of Inquiry! In this episode we welcome Christian Drapeau, MSc., a leading researcher in stem cells and cell mobilization. He will be discussing how his research has led him to develop a new method for mobilizing stem cells with StemRegen. Christian is an internationally recognized expert on stem cell biology and its application in regenerative medicine.
After listening to this one you might just start self-mobilization!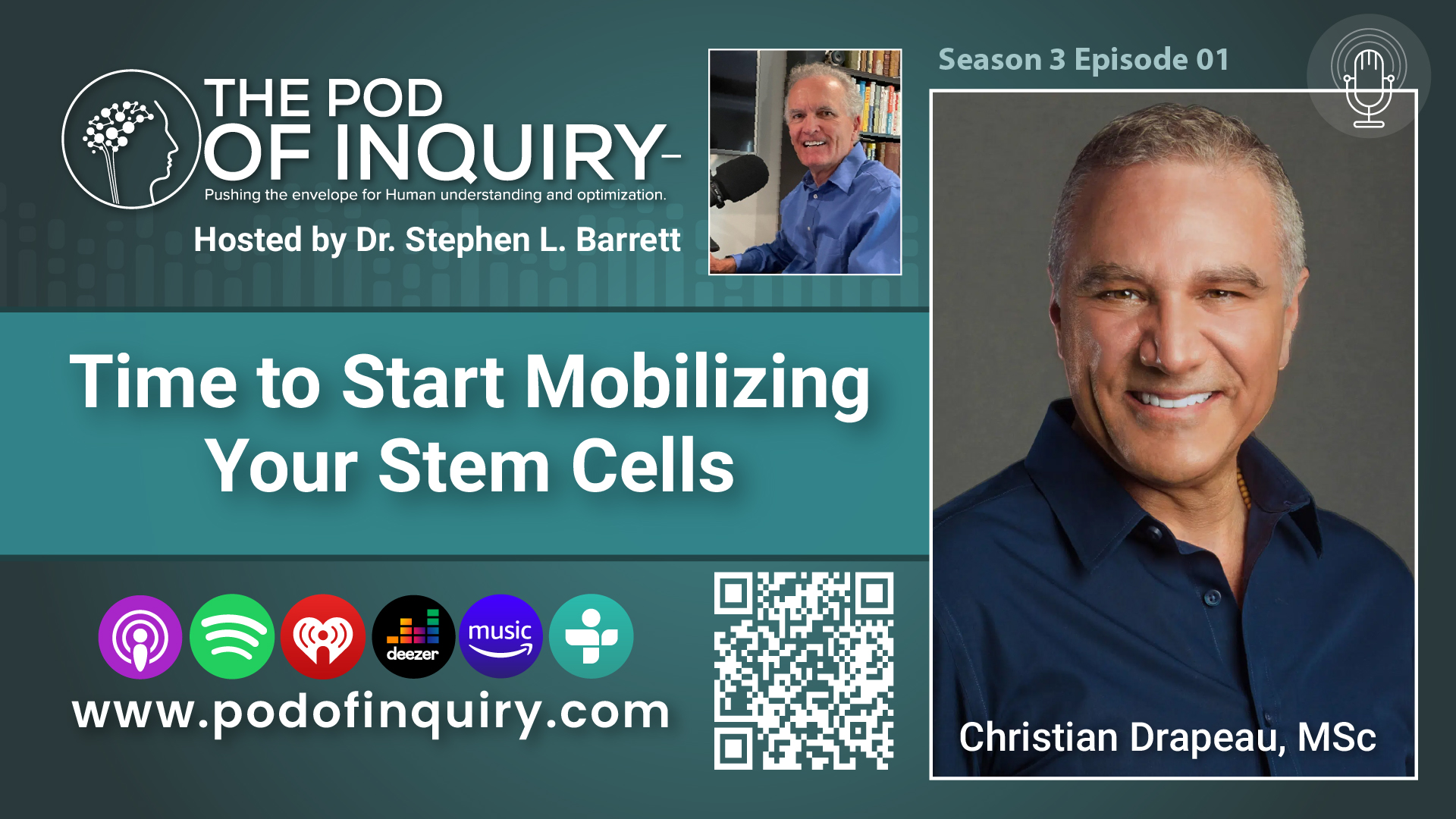 Watch The Podcast for Podiatrists
Listen to The Podcast for Podiatrists
Show Notes from this episode
Christian Drapeau, MSc.
Christian Drapeau started nearly 25 years ago when he began studying the aquatic botanical Aphanizomenon flos-aquae (AFA). People consuming AFA reported benefits touching three main aspects of human health: immune and inflammation support, and an increase in mental clarity and energy.
With his research team, Drapeau quickly identified that a polysaccharide from AFA was supporting various aspects of immunity, more specifically the activity and migration capacity of natural Killer Cells (NK Cells).  The University of Mississippi also documented immune-stimulant properties of AFA polysaccharide.
Regarding inflammation, as with any other blue-green algae, AFA is a significant source of phycocyanin, which was documented to be a strong COX-2 inhibitor and to reduce inflammation in several models of inflammation.  Over the years, phycocyanin was also documented to have anti-cancer properties.  Finally, Drapeau documented that AFA is a unique source of phenylethylamine (PEA), a molecule produced by the brain that enhances dopaminergic nervous transmission.  Oral intake of PEA has been documented to elevate mood to the point of being anti-depressive, and even to potentially bring beneficial effects in cases of Attention-Deficit Disorder (ADD).  On this basis, AFA-based products have been marketed to help children with ADD.
Throughout Drapeau's continued research, many people consuming AFA reported benefits linked to various aspects of human health that could not be explained via the known biochemistry of AFA.  For example, significant benefits touching the functioning of the heart, the pancreas, the liver, and even the brain.
Dr. Barrett 00:00 The mobilization of endogenous adult stem cells
Christian Drapeau 04:28 Tells us his journey into Regenerative Medicine
Christian Drapeau 04:41 Algae at Klamath Lake and AFA
Dr. Barrett 09:19 What is Wellness?
Christian Drapeau 10:00 Gives us a primer on stem cells
Dr. Barrett 17:01 What are the number of adult stem cells in a human?
Christian Drapeau 17:20 Here are the numbers!
Christian Drapeau 17:54 Cancer and Donors
Dr. Barrett 19:36 Inquires about how they isolated one cell
Christian Drapeau 19:41 Discusses the Lab experiments and the reconstitution of hematopoiesis.
Christian Drapeau 22:51 The explosion of stem cell technology and the sheep "Dolly"
Dr. Barrett 27:33 Talks about his initial use of PRP for Plantar Fasciitis
Christian Drapeau 29:56 Gives us his data on Congestive Heart Failure and other organs
Dr. Barrett 31:17 How long do the stem cells hang around after infiltration?
Christian Drapeau 31:50 They die? Then what?
Dr. Barrett  34:19 Signaling and paracrine effects
Christian Drapeau 37:13 Discusses Alzheimer's and Smoking
Dr. Barrett 41:50 Quitting smoking for bone healing
Christian Drapeau 43:16 The science
Dr. Barrett 46:14 How do we administer StemRegen?
Christian Drapeau 46:39 The effects of StemRegen
Dr. Barrett 47:42 Integration of StemRegen into the perioperative course
Christian Drapeau 48:04 Use in the surgical patient
Dr. Barrett 49:17 How can they get this fantastic product?
Christian Drapeau 49:39
15% off StemRegen
You can get StemRegen with a 15% discount off your first order when you go to:  stemregen.co Make sure you put the code:  SBPod in the "Have a Promo Code" box at checkout.  They also have great deals for you to implement this into your practice for your patients.