Please join us for this week's episode on the Pod of Inquiry to learn about Plasmalogens, and Alzheimer's Disease. Dr. Dayan Goodenowe is a PhD neuroscientist who will be discussing his research into the role that plasmalogens play in Alzheimer's Disease and how this horrible disease can be prevented and even reversed. We explore what plasmalogens are and how they may potentially help diagnose and treat the disease. Additionally, he will explain how his research could lead to better understanding of the disease itself and its causes. You won't want to miss this one!!!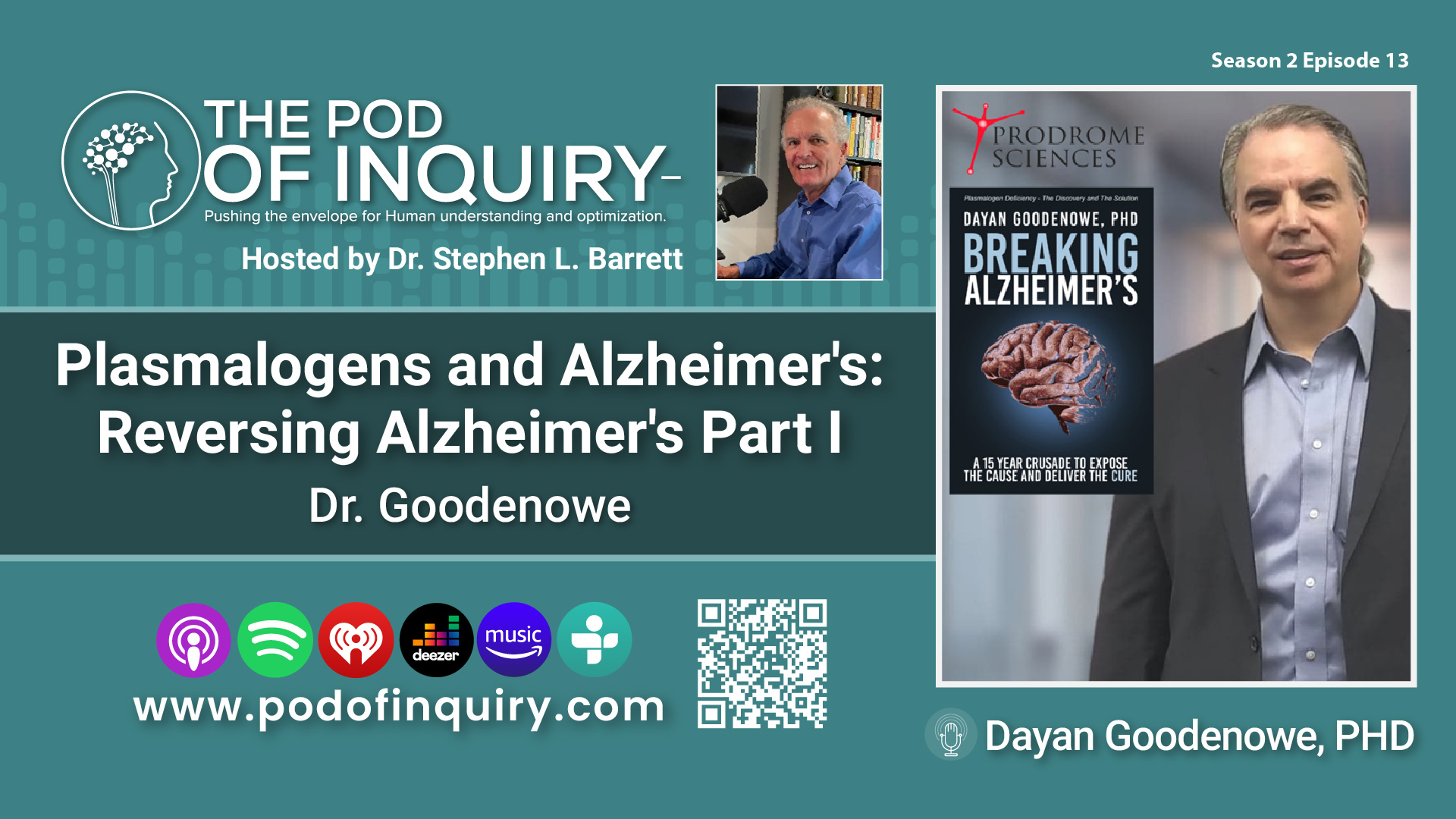 Dr. Goodenowe's research into the biochemical mechanisms of disease started in 1990. His curiosity about the biochemistry of life is as insatiable today as it was 30 years ago. In those 30 years, Dr. Goodenowe invented and developed advanced diagnostic and bioinformatic technologies, designed and manufactured novel and natural biochemical precursors, and identified biochemical prodromes of numerous diseases including Alzheimer's disease and dementia, Parkinson's disease, multiple sclerosis, stroke, autism, amyotrophic lateral sclerosis (ALS), schizophrenia, bipolar disorder, depression, and cancers of the colon, pancreas, ovary, breast, lung, kidney, liver, stomach, and others. And he is just getting warmed up. Dr. Goodenowe is now going beyond disease and the detection of biochemical dysfunctions to diagnose and the correction of biochemical dysfunctions to treat disease. Dr. Goodenowe's new focus is to defeat the entropy of aging by creating strategic biochemical and biofunctional reserve capacity in advance of known disease risks such that the human body can maintain the physical and biological functions of life indefinitely and without disease.
Dr. Barrett 00:31 Introduction of Dr. Goodenowe
Dr. Goodenowe is a neuroscientist and synthetic organic chemist and a biochemist. And one of the
Dr. Goodenowe 03:49 Talks about his journey to now! And mass spectrometry re-invented
Dr. Goodenowe 12:59 Plasmalogens, Gastrointestinal tract acids, and age and disease association
Dr. Barrett 15:54 Discusses APOE4
Dr. Goodenowe 16:30  What are plasmalogens and what do they do?
Dr. Barrett 30:22 The sweet spot of cholesterol—220 to 240?
Dr. Goodenowe 30:52 Discusses lipid physiology
Dr. Barrett  35:43 What is wrong with mainstream cardiology?
Dr. Goodenowe 37:20 Explains that it is not cholesterol to worry about—it's the oxidized LDL
Dr. Barrett 40:48 Let's talk studies
Dr. Goodenowe 41:03 Discusses amyloid and tau proteins
Dr. Goodenowe 47:03 The problem with medical studies
Dr. Goodenowe 54:53 Science is the art of failure
Dr. Barrett 57:38 Plasmalogens and potential role in peripheral neuropathy
Dr. Goodenowe 59:41 Is peripheral neuropathy the neuro muscular version of autism.
Plasmalogens (S2 Ep 13 & 14)
Why do you need plasmalogens?
Plasmalogens are essential molecules for the cells in our bodies.
These cells have vital roles in the brain, heart, lungs, kidneys, and eyes.
As we increase in age, these cells decrease in quantity.
Studies have shown that the decrease in these molecules may be related to the symptoms of brain diseases.
Plasmalogens are naturally inside us, so you can rest assured by supplementing plasmalogens.
Please contact our office for a referral.